About the Dakar Rally
The adventure began in 1977...
Thierry Sabine got lost on his motorcycle in the Libyan desert during the Abidjan-Nice Rally. "Rescued from the sands" in extremis, he returned to France defeated by these dreamlike landscapes. He then promised himself that he would share this discovery with as many as possible and lived for a single goal: take as many people as possible into the immensity of this sand. This led him to imagine an extraordinary journey originating in Europe. The route would then continue to Algiers before crossing Agadez and ultimately leading to Dakar. The plan quickly became a reality. The Paris-Dakar rally opened up an unknown world, one in which its creator, Thierry Sabine, was seen as a true pioneer. His motto then would be:
"A challenge for those who go.
A dream for those who stay behind."

Africa, a multi-faceted continent, in fact offered the perfect elixir, combining dreams with the world of competition. On December 26, 1978 the first Paris-Dakar took off from the Place du Trocadero.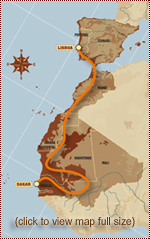 More than a simple race, the Dakar demands off-road navigation skills and amazing endurance. The combination of physical rigor and technical abilities has seduced champions from different horizons for close to thirty years, all wanting to test themselves and take on this event like no other.
Like mountains and oceans, the desert inspires adventurers. Taking part in the Dakar is what one might compare to climbing Everest, riding the Tour de France or sailing around the world. To make it to the finish podium at the Lac Rose in Senegal is the ultimate challenge of a lifetime. All the competitors are motivated by this tenacious desire to arrive at the Pink Lake. Whether they are bikers, drivers or truckers, all share the same ambition, a feeling that brings them closer to one another. The tradition of mutual help, a key factor that is one of the pillars of the "Dakar spirit", is born from this common passion. They all speak the same language.
Africa is vast and varied — silent or noisy — hostile or welcoming, it is often paradoxical but its charm works beautifully on men and women that are willing to listen. Tierry Sabine was deeply touched by this magic. Those who followed him on the way to Dakar in 1979 and since then, all have in common this sensitivity and have built a privileged link with the continent.
Africa isn't only a land. Although the landscapes from the deserts to the tropical forests and the mountains is splendid, the continents true soul comes from its inhabitants.
Where's Chris?



GPS Tracking in Real-Time
Click icon above, then enter Chris' race number
(#197)