About the Bike
The formula for success at the Paris-Dakar Rally...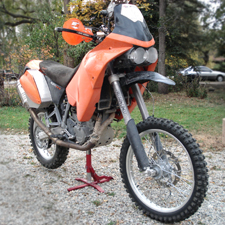 ...has evolved over the years like most competitive events. In the early days anyone that showed up at the start with a big fuel tank and a compass could conceivably take the checker. For a long while BMW ruled the race so much that they named, and still name a successful line of bikes after it. Nowadays and for the last 10 years or so a little company in Austria named KTM has been the mount of choice for nearly all of the top 10 finishers. With the elimination of large, multi-cylinder bikes the rules once again have changed and spawned a whole new era of smaller, lighter and faster bikes. Still, one almost certainly needs a factory KTM 660 (or 700, depending on who you ask) Rallye bike to make a name for yourself in this most unforgiving racing forum. For the rest of us, like the early days of NASCAR, you "run-what-you-brung". There are Hondas, Yamahas, Suzukis, Kawasakis, Huskys, two-wheels drives, sidecars, cars, trucks and buggies. For the 90% of us entered that are merely trying to finish, picking your steed is half the battle, so to speak.
Initially I had intended on buying a used 660 Rallye from an ex-racer for somewhere in the neighborhood of 12-18 thousand. One reason the 660 has dominated so much in the past is because of how efficiently it can carry 13 gallons of fuel. The new rules state that you need only be able to make it 175 miles on a refuel but it wasn't always like that. Earlier races insisted on a 350 mile ability and that didn't allow for fuel sucking dunes and inevitably getting lost along the way. The only way was to carry more. After a refuel the bikes were burdened with an extra 100 pounds and that started to cause crashes. The weights increased with the speeds and combined they were deadly. Today, with an effort to decrease speeds and increase navigation skills the bike of choice is no longer set in stone.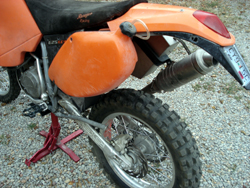 __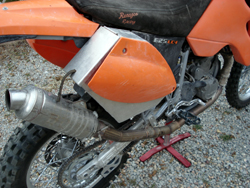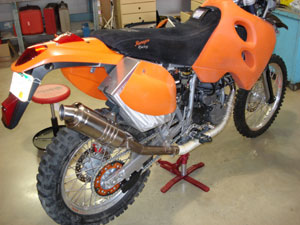 After much contemplation I have decided to convert my trusty old (2005) KTM 640 Adventure into my trusty new Dakar Rallye Bike. I thought about the 525 for a while but still had some reservations about reliability even given the proven track record with some very successful American Privateers. For a long time I had signed on to lease a customer bike, custom built by James Embro (Dakar finisher '06) and Elmer Symons (KTM factory mechanic and all around Phenom on two wheels). It is based on a heavily modified 625SXC with large tanks and all kinds of neat rally modifications. I was fortunate enough to test the bike recently at Scot Harden's Nevada Rally Experience and again at the Death Valley Rally put on by a couple Dakar vets, Charlie at www.TeamRallyPanam.com and Scott at www.HogWildracing.com. The bike was exactly what I had hoped for. It is a Dakar bike to finish for the privateer. James wasn't opposed to me building what he had labored over for the past 5 months, for a fee. The cost wasn't going to be a huge savings after it was all said and done but in the end I have a bike of my own and one that I took to Dakar. Plus, you always have to consider the possibility that the bike won't make it back and then, just like bad hangover, you get a big bill come March for a new bike.

__

__

__

So, three months before the start I began the teardown and rebuilding of my very comfortable 2005 640 Adventure. In only a year of ownership I managed around 10,000 miles on the 640 including a Vegas to Reno, pre-running Baja, the Trans-Am Trail and a couple Death Valley Rallys. It is by no means tired but needs a little love.

__

__

__

Briefly, here is the plan: The suspension is going to be reworked with a 660 Rallye front end including 22mm offset triple clamps and 48mm fork tubes, and a thoroughly reworked rear shock from Precision Concepts. The engine is taken down to the crank by Cycle Dynamics in Covington, GA and it is sent off to Falicon Cranks for some balancing and blueprinting.
"A motor is only nuts and bolts, sealing surfaces and torque specs.
Get those right and you have a tight motor."
Keith Bowman is the owner at Cycle Dynamics and entrusted with making the workhorse LC4 motor durable and maintenance-free, no small order. I searched for weeks for someone to take on the task of building my motor for Dakar. No one wanted the responsibility but Keith narrowed it down to terms I could understand, "A motor is only nuts and bolts, sealing surfaces and torque specs. Get those right and you have a tight motor." I hope he is right. With his attention to detail and a worked Falicon crank I think I'll be in good shape for the 5000 mile trip to Dakar.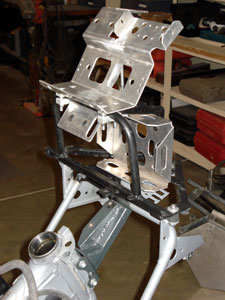 __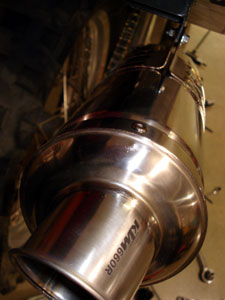 When the motor is finished it will be fed through a 41mm Keihin CR carb and spent through a custom exhaust designed by James and Elmer. They have figured out a way to adapt a 660 Rallye exhaust system to the 640. This is important for a couple reasons: first, it accommodates the rear auxiliary fuel tank on the left side and, next, allows for the 660 Rallye bellypan with its 3 liters of water capacity. James welded on some tabs for the pan on the frame and the bolt-up was farily simple. They contracted Robinson Racing to fabricate the header and even before it worked as good as it did it was a work of art, moto-art anyway. Another reason this setup works so well is because it uses an exhaust canister that is nearly indestructible and easy to replace during the Rally, for a fee.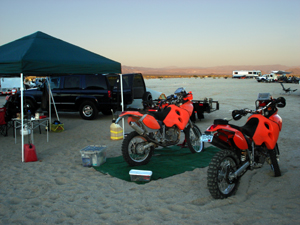 __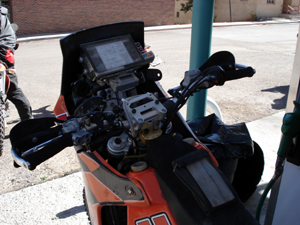 So many technical decisions are made contingent on it being destroyed during the race in the middle of the desert. If you have to replace an item you had better hope you can buy it from someone or you brought one from home. For me, I am buying space on James's support truck to carry whatever I feel cannot be supplied by the KTM support package. On the truck will be a number of "640-only" items that simply cannot be replaced by the factory guys.
KTM offers a support package for around 2,000. Euro if you happen to be on a 660 Rallye from 2001. That only gives you pleasure of buying off their truck. You are basically paying KTM to carry your spares. Cheap insurance any way you look at it. During the race, anything that breaks you, or your mechanic, only have to walk up to the truck and request a part. It isn't cheap but, then again, there aren't many KTM dealers in Mali and Mauritania.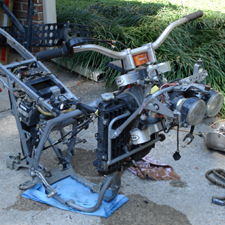 __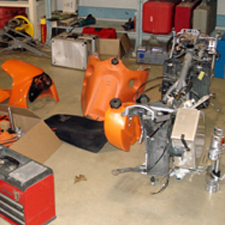 __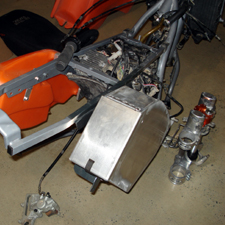 The next major task was to figure out how to accommodate all the navigation gear in the already confined dashboard. Once again, James and Elmer reworked the stock brackets, subframes and wiring to simplify all the additional equipment. The stock dash is tossed and in its place will be two ICO odometers (one is a backup), a proprietary ASO GPS and bracket, a speedo-cap that simultaneously displays your speed in kms and your compass heading for navigation. There is also a Sentinel alarm and beeper to warn me of any approaching vehicles from behind and a Balise system and Iritrack to track my progress and call the ASO in the case of emergency. It is a lot of extra wiring and a real exercise in efficient use of space and usable wattage.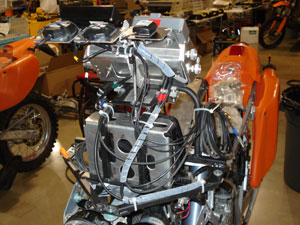 __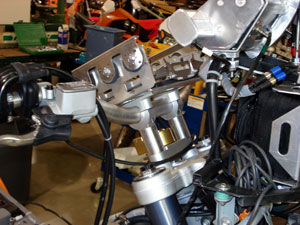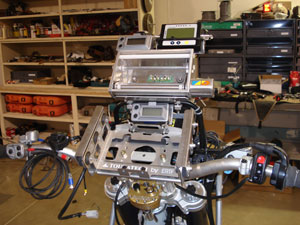 In case you haven't figured yet, my bike will basically be a JJE Team Racing privateer bike. James has a goal of putting together a privateer bike program for lease where a customer can almost literally arrive and ride, at least as much as you can "arrive and ride" at Dakar.
"...anything that could potentially compromise reliability
is automatically out."
For bike mods there are a lot of little things that will come to surface and need to be addressed between now and the start. In an effort to keep everything as simple as possible there won't be any modifications to the engine to increase power. There is enough power to reach the mandatory speed limit of 95mph and anything that could potentially compromise reliability is automatically out.
Elmer and James have been my biggest ace in the hole. Without their expert experience and tireless dedication to the cause there is no way I could have even fathomed building a bike like this.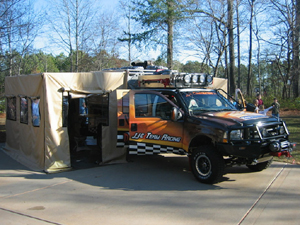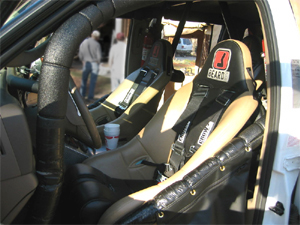 __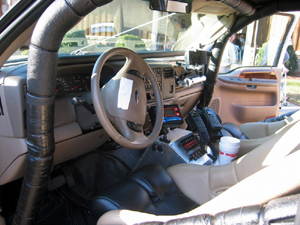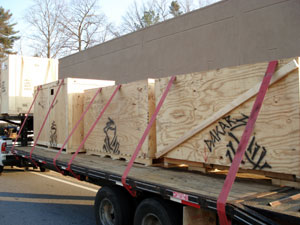 A few others that have been essential in my privateer bid for the Pink Lake need to be recognized: my buddy Jason at Discount Powersports helped me out enormously with parts and spares as well as introducing me to off-road riding four years ago. Ken Cox at Pro Moto KTM in Woodstock, GA was extremely enthusiastic when asked to help out with the ordering of the Austria-only KTM replacement parts and the KTM support package. Chris at Woody's Wheels in Denver, Colorado built up some super strong, light wheels racing wheels and really embraced the whole Dakar privateer effort.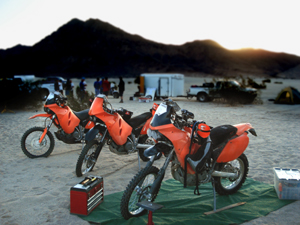 The overwhelming enthusiasm from those in the motorcycle industry has been wonderful. I am constantly amazed at how people upon hearing about Dakar are motivated to help in any way they can.
— Chris Jones

Home | The Race | About Chris| The Team| The Bike | Race Reports | Supporters | Links | FAQs | Donate | Contact