About Chris Jones
For a first attempt at the Dakar a good goal is merely to finish.
Traditionally only a fraction, less than half, of the competitors finish and even fewer rookies make it to the Lac Rose in Dakar, Senegal.
Like most avid motorcycle enthusiasts, I have been a fan of the Dakar for years. And, like most, I looked on in awe at those amazing athletes and wondered aloud how one could do such a thing. To me, they may as well have been riding around the moon it looked so foreign. When I really started tuning in around 4 or 5 years ago I had never ridden a bike off-road and quite honestly didn't have much desire to. Purely as a way to enhance my road riding and racing I begrudgingly bought a dirtbike, a five year old KTM 2-smoke, in 2002 to learn how to "slide".
"Not long after my first foray into
a few axle-deep mudholes
I was hooked on dirt."
A year and a half after that in June of 2003 my wife, Spice, and I embarked on what we planned to be a two year, around the world journey on two KLR650s. Our off-road riding was limited to a few local harescrambles in Georgia but we would soon learn that there was a whole other world out there, literally. To begin our dirtbike boot camp we rode the 3500 mile Trans-Am Trail, www.transamtrail.com, across the country. Again, I fell in love with the dirt and, once we got to Utah and Nevada, the desert.
I mostly forgot about the Dakar but all along the trip I yearned for that type of intensity you only find in a racing atmosphere. Fast forward 7 months and 20,000 miles into the trip when Spice and I had realized the dream of spending New Years at the southernmost tip of South America, Ushuaia, Argentina. For coffee one morning we happened into a café for our usual morning ritual and sat mesmerized once again at the spectacle that surrounds the start of the traditional Paris Dakar Rally. For the next 3 days Spice and I made our way to the same café at the same time to tune in and dream, me anyway. Spice I think was a little puzzled but it was all too clear at that point why early on in our courtship I would abruptly leave the comforts of REM sleep for a half hour tv show hosted by a goofy Brit named Toby Moody. Toby over the next couple years would become a household name. Who would have thought?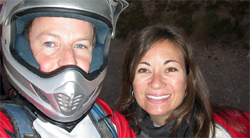 Chris & Spice Jones
It was at that point that we both watched on and barely said a word but knew what the other was thinking-after this trip we are doing Dakar.
The trip ended a little prematurely but in hindsight maybe it was perfect timing. Soon after our return home the idea of setting our sights on Dakar started to take shape. I had barely ridden in the desert and certainly never raced in it so I set out to see what that was all about.
A fellow I had heard of named Scot Harden had done some desert riding and even the Dakar I thought so I called him to see how I could get to the Dakar. He happened to be putting on a little weekend seminar in 6 weeks for a couple of the American privateers, actually one was Canadian, Bob Bergman, and the other was from South Africa, Kevin Heath. Scot said I was welcome to come along and learn a little about Dakar so Spice and I packed up the truck and loaded the KLR on a trailer for Nevada. Since we were just back from our trip the bike still had most of the touring accessories. I didn't give it much thought until Scot admitted to me that he had never given off-road racing lessons to anyone with luggage on their bike. Oh well, what did he know, I had ridden to South America. Man did I have a lot to learn but again it wasn't enough to turn me away. I was hooked and going to Dakar. My timing was a little off, by a year exactly, but who's counting?
"...it is your whole life for a couple years
...and possibly a lifetime."
To start my road to Dakar right away I called a buddy to see if he would be into racing the Baja 1000. He agreed and 6 weeks before the race we had a team of 4 riders amped and ready to race Baja. That is a story in itself (we finished but it took a little while) so I won't bore you but at that point I realized, with a little help and rational thought from Spice that maybe I should set my compass on Dakar '07 and not'06.
Another Baja 1000, two solo Vegas-to-Renos, two Death Valley Rallys, two Harden Nevada Rally Experiences, countless trips out west for riding and training and the overwhelming personal and financial sacrifices involved in putting together a privateer effort and I think we are ready.Almost three years ago we sat and watched the satellite coverage of an event probably 15,000 miles away and a dream was born. Little did we know it would dominate our life the way it has. Every ride away from the house, every run around the neighborhood and up and down our favorite trail, every race and trip out to the desert, and every hour spent lifting those stupid weights has all been to get to Dakar. So when someone asks, "how much does it cost?" or, "how do you do it?" the easy answer is about 50 or 60 grand but really it is your whole life for a couple years and possibly a lifetime. Ask those that have done it, I did.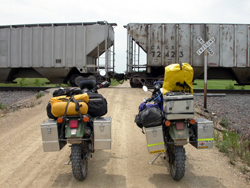 Learn more about the
motorcycle journeys of Chris Jones